Manufactured using strong, lightweight, aluminum-zinc alloy coated 26 gauge steel and covered with 3M ceramic coated stone granules and sealed with an exclusive polymer coating, stone coated steel roofing systems are the most beautiful and trouble free roofs available today.
Transferable LIFETIME limited product warranty
Unique Hidden Fastener System
Exclusive "Cut & Tuck"™ Technology – No Special Tools Required
Installs Direct to Deck
Class 4 Hail Impact Resistance to UL 2218
Lightweight – only 150 lbs per square (100 sq.ft.) installed
Non-combustible Class A rated material
Won't crack, break, burn, curl, split or rot
Walkable, low maintenance
Long life, non-porous, freeze/thaw resistant
Interlocking panels provide weather tight barrier
Can be applied over existing roof (More info)
Panel size – 14 1/8" x 52 1/8" , Installed Exposure – 12 3/8" x 49 7/8")
23.4 panels per square (100 square feet)
Call 877-833-3237 for details
AVAILABLE IN THREE COLORS:
Print Material: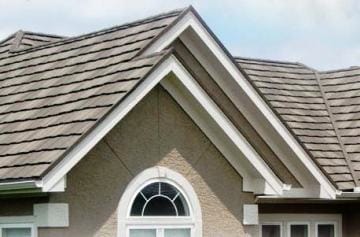 Get a Free Online Shingles Estimate:
If you are looking for a fast, free, "ballpark" metal roofing quote based on square footage then you're in the right place. If you would like a truly complete, accurate, metal roofing quote then you can ask for a detailed metal roofing materials and cost analysis.
---
Want a Real Person?
Please call us toll-free at 1-877-833-3237
with any questions or quote needs! We are here to help.
Customer service and pricing available from 8:00 am to 5:00 pm MST Monday – Friday.