Centura Steel Shingles
Centura steel shingles give you the beauty of a shingle roof with steel's durability
Centura steel shingles may be far lighter than any available asphalt shingle, but they're also tougher and easier to maintain, while saving you money and looking great.
But what does "tougher" really mean? It means they're rated to withstand heavy snows, hurricanes, and wildfires – for a lifetime.
Don't Sweat Horizontal Rain: Its UL 489 rating means Centura Steel Shingles will protect your roof from wind-driven rains up to 110 miles an hour. The interlocking system is designed to shield your roof's vulnerable decking from wind-driven rain, so you stay dry, and your roof doesn't leak.
Safer Against Fires: The UL 790 Fire-Resistant rating means Centura is a smart choice for homeowners in wildfire-prone regions, or even tight-knit housing communities where a home fire could spread. No need to worry about windblown embers landing on this non-combustible roofing product.
Worry Less in Winds: With an UL 1897 rating for wind uplift, you can trust your roof to weather all Category 1 and 2 hurricanes, and winds right up to 120 miles an hour.
---
Centura Shingles Specifications
Panel Exposure: 39" x 12"
Panels Per Square: 30.77
Weight Per Square: 76 lbs.
Test Data: UL 1897, 489, and 790
Product Material: ASTM A653 G90 Galvanized 29 G
Fastening Detail: Continuous integrated nailing flange and four-way interlock.
This product is Certified 'Premium' under the Metal Construction Association Certified Roofing Panels program
Available Colors:
​Using the industry-leading protective metal paint Kynar 500, your Centura metal shingles paint finish will look good for at least three decades. The paint is warranted for 30 years against fading and chalking.
Replacing a roof is a big decision – and a big expense. Get the most out of your new roof by choosing Centura Steel Shingles, as beautiful as they are smart. These energy-efficient shingles have an impressive warranty because they're proven to last for several decades.
Traditional asphalt, wood, and composite shingles may look beautiful the day they're installed, but it's all downhill from there. Installing traditional shingles means signing up for thankless maintenance on a roof that will deteriorate season after season, no matter how well you maintain it.
But that won't be your experience with Centura Steel Shingles. Their Lifetime Limited Warranty is your assurance that this roof will look great for at least three decades. With a four-way interlocking panel system and Kynar 500 PVDF paint finish, these shingles will endure nearly everything nature unleashes on them while still looking good.
Centura Metal Shingles Project Gallery
Energy Efficiency: Solved
Household attics can be notorious for trapping heat and making interior spaces insufferable during the dog days of summer. Roofing materials are a huge part of that problem. You've seen heat radiating from asphalt roads, so why would you clad a roof in asphalt shingles? If you're looking to lower cooling costs, Centura's PVDF paint finish is designed to reflect the sun's energy and keep that intense heat out of your home. Studies show homeowners with metal roofing often have energy bills over 20% lower than other roofing materials, and those savings will add up for decades.
100% American-Made
Centura believes in keeping America's economy strong while providing the best quality product we can, and that's why every component in our Centura Metal Shingles roofing system is made right here in America. From the steel and paint to the protective coatings, fasteners, and accessories, it's all 100% made in America.
WARRANTY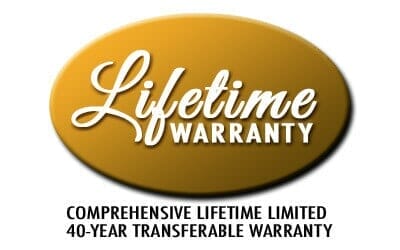 The Centura Metal Shingle Limited Lifetime warranty is good for as long as you own your home. Should you decide to sell, it's transferable to anyone who owns the home for up to 40 years from the date of installation. And no matter whether it's your roof or a subsequent owner, the warranty will be non-pro-rated for its duration.
Covered under the warranty are typical things that can happen with a metal roof, like the coating failing, winds lifting a panel, or any damage from hail that might cause perforations or leakage. In the unlikely event such things go wrong, our warranty covers not only the materials for repair or replacement, but also the cost of labor. But don't take our word for it, feel free to ask for our warranty in writing. It's in everyday language, not legalese, and you'll find it easy to read, clear, and concise.
Keep in mind, the installation is important, and it needs to be installed correctly for our materials warranty to be valid. Installation will be covered under a workmanship warranty offered by your contractor. Be sure to ask for their warranty in writing before signing a contract. If you're not confident in choosing a metal roofing contractor, we may be able to refer you to quality contractors in your area, so give us a call at the Metal Roofing Source.
Get a Free Online Shingles Estimate:
If you are looking for a fast, free, "ballpark" metal roofing quote based on square footage then you're in the right place. If you would like a truly complete, accurate, metal roofing quote then you can ask for a detailed metal roofing materials and cost analysis.
Want a Real Person?
Please call us toll-free at 1-877-833-3237
with any questions or quote needs! We are here to help.

Customer service and pricing available from 8:00 am to 5:00 pm MST Monday - Friday.