Met-Tile Roofing Panels :
Ceramic Tile Look. Metal Advantages.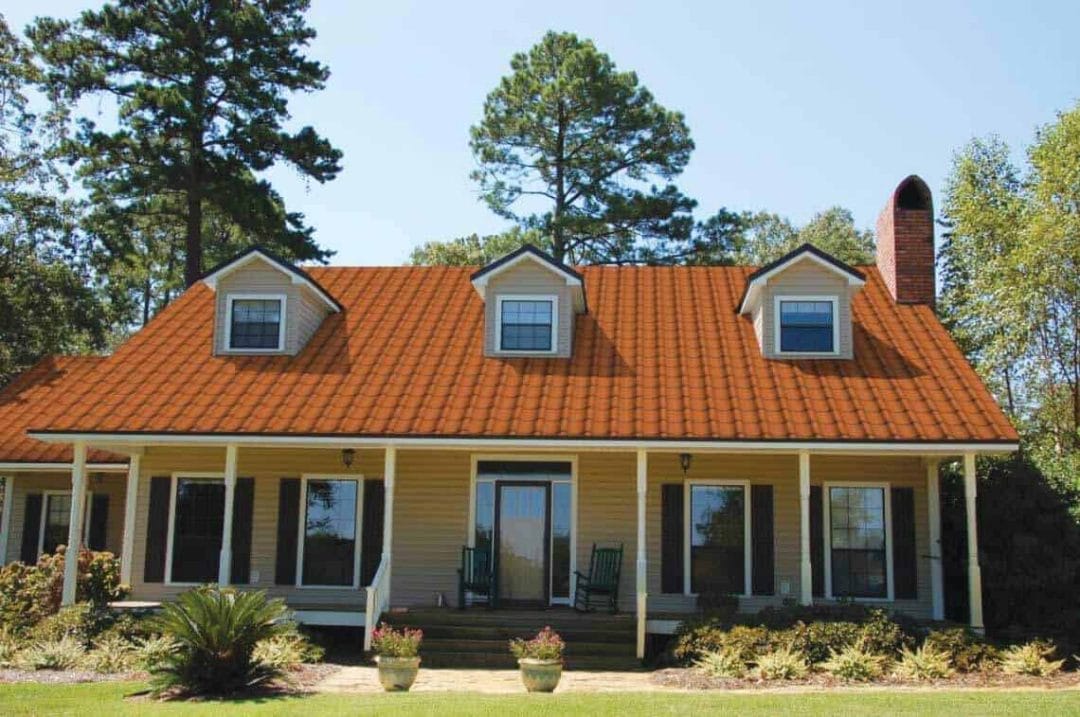 The Met-Tile roofing panel provides the appearance of ceramic tile roofing but carries none of the traditional disadvantages of ceramic tile (in particular, the weight).  Met-Tile is one of our most popular shingle / tile type of roofing options because:
It looks just like ceramic tile from the road. Most people are surprised to learn that it is metal.
It enjoys the lightweight and environmental performance of metal.
The panels are larger than other metal shingle/tile products, which dramatically decreases installation time.
40 year warranty on the panel integrity, and 30 year warranty on the color against fading or chalking.
Pricing:
We are working on adding this product to our online quote system. For now, please call 877-833-3237 for pricing.
Met-Tile Details:
26 gauge panels
Panel lengths: 2′ – 20′ (in 1′ increments)
Steps are 1′ on center
Panel width: 38 5/16″
Panel coverage: 36 3/16″
Fire Rating: Class A
Florida Approval: #17905.1
Stucco-like embossed surface
Installation Requirements:
Minimum slope: 1 1/2:12 required with sealant
Minimum slope: 3:12 required without sealant
Must be installed over solid deck
Popular Applications:
Right now, the Met-Tile in Mission Tile and Spanish Tile Red colors are HOT in the Southwestern USA!  These panels look great on adobe / stucco style of construction and give that Spanish look at a fraction of the weight of ceramic.
Available Colors:
All colors are a coating of low gloss, Kynar 500® (PVDF). Screws are available to match your color.
Because of this "tile" working as a panelized roofing system, installation requires a fraction of the time required by the installation of real ceramic tiles.
Picture Gallery:
Enjoy a range of panel options when you choose Met-Tile for your project. Panels are available in lengths from 2′ to 20′, in increments of one-foot.
Your roof is highly visible and should look great, and Met-Tile helps you achieve your vision by offering a range of customization options that allow you to truly add curb-appeal to your home. You can customize your selection by choosing from among several attractive Low-Gloss Kynar, 500 color options.
Fire Resistance (UL263) Ratings
Tests for Fire Resistance Ratings of Roof Covering Materials UL 263 (ASTM E119 and NFPA 251)
Met-Tile, secured by steel anchor clips, has been approved for use in the following Underwriters Laboratories design numbers: P225, P227, P230, P237, P250, P259, P265, P266, P268, P508, P510, P512, P514, P516, P518, P701, P711, P712, P713, P717, P719, P720, P722, P723, P726, P731, P732, P734, P739, P740, P801, P815, P819, P824, P825, and P828.
Fire Resistance (UL790) Ratings
Florida State Approval
Met-Tile has been approved by the Florida Building Commission for being in compliance with the 2014 Florida State Building Code.
UL 2218 Impact Rating Class 4
Texas Department of Insurance Approval
Met-Tile has been evaluated by the Texas Department of Insurance for being in compliance with the International Residential Code (IRC) and the International Building Code (IBC)
Technical Specs, Installation, & Prep Data
Click Here for Warranty Info
KYNAR 500®
COATING SYSTEM LIMITED WARRANTY
APPLICABLE PRODUCTS: MET-TILE ROOFING PRODUCTS
McElroy Metal, Inc. ("McElroy") warrants to the purchaser of McElroy panels using Galvalume, galvanized G90 or aluminum substrates with standard Kynar 500® or Hylar 5000® coating systems that when used in exterior applications the coating system will meet the following standards. For warranty terms on special and/or non standard colors, please contact a McElroy representative.
1. For a period of 40 years from the date of shipment, the coating system will not crack, check or peel (lose adhesion).
2. For a period of 30 years from the date of shipment, the coating system will not chalk in excess of numerical rating eight (8) for sidewall applications and numerical rating eight (8) for roof applications when measured in accordance with ASTM D-4214 procedures.
3. For a period of 30 years from the date of shipment, the coating system will not change color (fade) more than five (5) ΔE Hunter units for sidewall applications and five (5) ΔE Hunter units for roof applications when tested in accordance with ASTM D-2244 method D659 procedures. Color change shall be measured on an exposed painted surface that has been cleaned of surface soils and chalk, and the corresponding values measured on the original or unexposed surface. It is understood that fading or color changes may not be uniform, if the surfaces are not equally exposed to the sun and elements.
Orange, Casco Orange, Safety Orange and Brite Red are warranted under the same testing methods and limitations as indicated on this warranty, but have special numerical ratings as indicated below:
1. For a period of 20 years from the date of shipment, the coating system will not crack, check or peel (lose adhesion).
2. For a period of 10 years from the date of shipment, the coating system will not chalk in excess of numerical rating eight (8) for sidewall and roof applications.
3. For a period of 10 years from the date of shipment, the coating system will not change color (fade) more than five (5) ΔE Hunter units for sidewall and roof applications. McElroy Metal also warrants that for a period of fifteen (15) years, panels coated with Kynar 500® or Hylar 5000®, when installed in vertical or non vertical application (min 3:12 slope) will not exhibit accumulation of red rust greater than 3/4″ at any one interior point of the panel. This provision shall not apply
to any accumulation of red rust which occurs within 3/4″ of breaks of discontinuities in the surface, such as panel edges (factory or field cut) or metal penetrations (such as fasteners) at any time after application of pretreatment and paint systems.
Subject to the conditions, limitations and exclusions set forth below. If any panels fail to comply with the warranty specifications set forth above, McElroy agrees to repair, repaint or replace such panels, at its sole cost and expense. McElroy shall have the sole option of repairing, repainting or replacing the panels and may contract for such work. Any repaired, repainted or replaced panel shall be covered by this limited warranty, but only for the remainder of the period applicable to the panel originally purchased. McElroy's liability under this warranty shall be limited to the cost of labor and materials reasonably necessary to repair, repaint or replace the panels that do not meet the above specifications. All claims filed under this warranty must be presented in writing by the purchaser to McElroy during the warranty period and not more than 30 days after discovery by the purchaser of the problem for which the claim is made. All claims must reference McElroy's invoice number and be either hand delivered or sent by registered or certified mail to McElroy at 1500 Hamilton Road, Bossier City, Louisiana 71111.
THIS WARRANTY SHALL BE SUBJECT TO THE FOLLOWING CONDITIONS, LIMITATIONS AND EXCLUSIONS:
A. This warranty covers only panels erected in the continental United States, Alaska and Canada, which are exposed to normal weather and atmospheric conditions.
B. This warranty is for the benefit of the original purchaser only and is not transferable or assignable.
C. In determining whether the panel meets the specifications set forth above, color change shall be measured on an exposed painted surface that has been cleaned of surface soils and chalk per ASTM D 2244 procedures. McElroy does not warrant that color changes will be uniform.
D. This warranty does not apply to defects or failures which arise out of any of the following:
(1) the formation of rust on the panel edges;
(2) acts of God, falling objects, external forces, explosions, fire, riots, civil commotions, acts of war, radiation, harmful gases, harmful fumes, salt atmosphere or standing water due to failure to provide adequate slope and drainage;
(3) failure to properly insulate panels from copper, lead, and other dissimilar metals, contact with damp insulation, debris, soil, vegetation, animal waste, decaying materials, wet absorptive materials, concrete or other foreign or corrosive materials from contact with or in close proximity to the panel;
(4) use in manner not intended or improper storage or handling, including but not limited to damage from condensation on the panels attributable to improper handling; or
(5) failure of the metal substrate;
(6) minute fracturing which may occur in proper fabrication of the building parts;
(7) if panels are applied without protection over lumber which has been treated with preservatives or fire resistant materials, regardless whether such treatments are present with or without the knowledge of the buyer, the owner or any other party. This exclusion shall include, but is not limited to, lumber which has been treated with pentachlorophenol, chromated copperarsenated salts, creosote, fluochrome arsenate phenol, alkaline copper quaternary, or any similar treatment for fire and rot resistance. Protection of lumber as provided for in the exclusion shall be defined
as any barrier that prevents the transfer of moisture and salts between the treated lumber and prefinished metal panel;
(8) abnormal corrosive atmospheric conditions. This exclusion includes, but is not limited to, contamination from external sources such as manufactured chemicals and salt spray, and internal contamination created by improper ventilation (design or operational defects) or improper housekeeping;
(9) discontinuities in the paint film as a result of damage during installation or use of the building e.g. scratches;
(10) design flaws that would result in moisture (water) or other foreign materials to accumulate resulting in excessive exposure to moisture or foreign material.
E. McElroy shall have no obligations under this warranty unless and until McElroy receives payment in full for the materials furnished.
F. The supplier of the paint coating applied to McElroy panels and the applicator of the paint coating has made certain warranties to McElroy which are same (or substantially similar) to the warranties made by McElroy under this limited warranty. This limited warranty shall be of no further force or effect if such supplier, or its successors or assigns, can no longer perform its obligations under the coating system warranties made to McElroy.
THERE ARE NO OTHER GUARANTEES OR WARRANTIES, EXPRESSED OR IMPLIED, WHICH EXTEND BEYOND THE DESCRIPTION AS STATED HEREIN, INCLUDING ANY WARRANTIES OF MERCHANTABILITY OR FITNESS OF PURPOSE. McELROY METAL SHALL NOT BE RESPONSIBLE FOR ANY INDIRECT OR CONSEQUENTIAL DAMAGES (SUCH AS DAMAGES TO THE CONTENTS OR FURNISHINGS OF ANY BUILDING) OR ANY LOSS OF ANY KIND WHATSOEVER.
REV. 5/12
MM611
Want a Real Person?
Please call us toll-free at 1-877-833-3237
with any questions or quote needs! We are here to help.

Customer service and pricing available from 8:00 am to 5:00 pm MST Monday - Friday.