There's a few tools that will make your job easier and quicker. Nothing too expensive but something you'll be glad you have for the job.
The tools described below are in addition to the ones listed on the installation instructions of the roofing material you have selected. Or in some cases, we thought that pictures, some demonstrations and a brief "where to buy" would be helpful to you.
---
Fastener Drivers:
If you have a smaller project you can get by with the electric drill or cordless drill that you have in your tool chest but if you have a larger project we thought we would show you what the pros use.
A cordless impact driver makes short work of fastener installation and your hand and wrist will feel better at the end of a long day.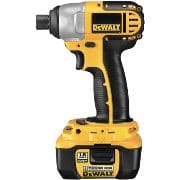 The tried and true DW257 driver has been a pro favorite for years. For about $80 you are going to get a tool that will last you a long time. Originally designed to install sheet rock screws, with a little modification this 2500 rpm driver is perfect for installing metal roofing or metal siding fasteners.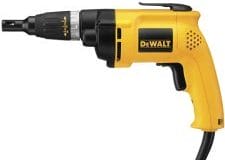 Electric Swivel Head Metal Shears:
Cost is around $200.00 and you can pick them up at www.dewalt.com or at a local hardware/tool shop. These are useful for cutting metal panels across the corrugation or cutting shingle style materials.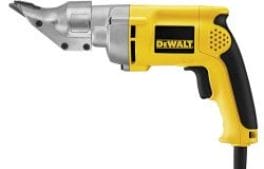 Our Favorite Inexpensive Shear Attachment:
This one attaches to your electric drill and has nice deep throat to it. The deep throat enables it to easily pass through any high ribbing on the panels.

By Itself

With Drill Attached

Cutting with shear
Our favorite shear attachment is a "Malco" TurboShear HD and is available at www.northerntool.com/ for about $90.00 plus shipping.
Nibblers: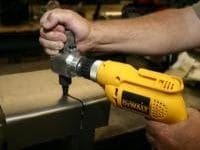 Nibbler attachments are a great device. They attach onto your electric drill and therefore don't run much money. We like the one shown the right. Most nibblers will easily cut curves as well as straight lines.
Nibblers are the perfect tool for cutting across corrugation as well as circle cuts around vent pipes ect. The only downside to a nibbler is that they are specialized tools and only used in metal cutting. You may want to opt for the attachment shown above if you don't plan to get into the metal roofing business.
Blade Cutting:

Sometimes you can use a hand held grinder with an abrasive wheel attachment or a circular saw with a ferrous cutting blade. While they work fine, most panel manufacturers do not recommend cutting panels with any sort of abrasive wheel/blade because it allows for a place (the edges) where corrosion can start. (Regardless, you're going to find a circular saw makes quick work of the job.)
When using a ferrous cutting blade on a circular saw, make sure you cut the panels from the underside because the saw guides will undoubtedly scratch the finish of the panels. They are available at most hardware stores.
If you have a job that is going to require a lot of panel cutting you may want to consider a carbide metal cutting blade for your 7 1/4″ circular saw. You should be able to find one for around $50.
When using a blade cutting technique, always use protective eye gear!.
Metal Snips:
Good snips are a "must have" when working with any type of metal roofing especially the trim and flashing.
Home Depot or any decent hardware store will have good quality metal snips you can buy for around $30 per pair. There are snips that are best for right hand cuts and ones best for left hand cuts. And of course, ones that are best for straight cuts.
The arrows next to the tool pictures show which direction the snip cuts best.

See more on cutting metal panels
---