KasselWood Steel Shingles
Stunning Style and Earth Smart
Authentic-looking beauty
From the street, KasselWood looks identical to real shingles, including the texture.
Whether you're a fan of asphalt, cedar, or slate shingles, one of KasselWood's 11 colors and styles are sure suit your aesthetic style.
KasselWood uses industry-leading PVDF resin-based paint systems that are proven to look great for decades, and you get that protection with every style of KasselWood steel shingles.
Earth Smart
With a lifetime warranty, it's unlikely you'll be the one to recycle this roof, but when that day comes, it's 100% recyclable.
Made with 35% recycled steel, it's truly Earth-friendly.
As one of the lightest roofing products made, this metal roof can be installed over existing roofs where building codes allow. That means you save money on the install while avoiding the landfill. Win-win!
With a lifetime of at least 40 years, this metal roof will outlast 2-3 traditional roofs – making it both a sustainable choice and money well-spent.
Built to Last
When you get a lifetime warranty, you know it's a well-made product. But just think of everything a well-made roof must endure and outlast – it's a long list.
Made to endure all weather conditions, including 120-mile-an-hour hurricane winds and hailstorms.
Freeze-thaw cycles are brutal on traditional roofs. Flip-flopping from warm to cold and back is what causes standard shingles to fail faster, but steel is impervious to weather's fickle ways.
While other roofs experience slow but steady decline as they age, steel endures decades without weakening or looking shoddy.
These steel shingles are warrantied against chipping or leakage from hailstorms.
Perfect for wildfire regions, since KasselWood steel shingles will not burn, and are rated to protect roofs against wind-blown burning embers.
KasselWood is warrantied to last the original owner's lifetime – but the extensive warranty is a 40-year transferable warranty from the date of installation, no matter how many times the home changes ownership before 40 years are up.
Class-A UL790 Fire Resistance: Your roof will offer protection from nearby fires, since steel doesn't burn.
Class 90 Wind Uplift Resistance (UL580): Proven to withstand 120-mile-an-hour winds, the interlocking design and concealed fasteners are engineered to provide peace of mind during hard-hitting storms.
Class IV Impact Resistance (UL2218): Lab tests show that KasselWood battered under hail does not crack, perforate, or allow penetration for even the toughest of hailstorms.
Product Specs
KasselWood steel shingles are 100% American Made – every component of this product is made right here in the United States, from the paint system and fasteners through to the accessories.
Panel Exposure: 40.625" x 8.625"
Panels per Square: 41.1
Weight per Square: 85.7 lbs
Product Material: 29 Gauge, ASTM, A653 G90 Galvanized Kynar 500® PVDF resin-based finish
Available Colors (see below): New Cedar, Weathered Cedar, Aged Cedar, Copper Penny, Evergreen, Charcoal, Gunmetal, Mission Red, Stone, Black, Slate Rock Gray, Barkdust, Cinder Gray
Fastening Detail: Four integrated nail tabs per Panel: Ring shank corrosion resistant fasteners recommended
Panel Example:
An American Made Product
Every component of a KasselWood steel roof is made in the United States. We work diligently with our suppliers to bring the best materials and newest technology to our roofs. Our high-quality steel, paint system, fasteners, and accessories are 100% Made in America.
Lifetime Warranty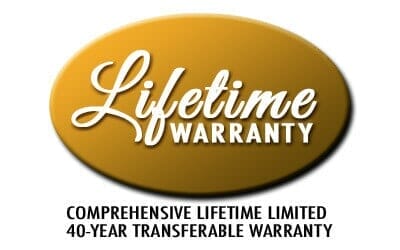 Looking good is no small part of a roof's job, but it's far from the most important. That's why we're proud to supply products like KasselWood, from makers who build attractive roofs designed to last your lifetime.
What's the point of a warranty that ends when you sell your home? How does someone new moving into the house affect the product that's on the roof? Well, it doesn't. For some manufacturers, a homeowner selling up is an escape clause they're happy to capitalize on.
But for the manufacturers behind KasselWood, tough is tough is tough; it's doesn't matter who's got the paperwork. It's built to last 40 years at least, and they'll honor the warranty no matter who's taken ownership.
KasselWood's Comprehensive Lifetime Limited / 40-Year Transferable Warranty
The construction industry is terrible for generating waste – but renovations, repairs, and replacements are the lifeblood of an industry that cannot sustain itself through new builds alone. So, your traditional roof is designed to be replaced, on average, every 12 to 20 years.
If you're 30 when you buy your first home, and you live the expected 80 years or so, that's 3 to 4 roofs you can expect to replace – never mind the patch jobs you might need in between or the maintenance you'll do yearly. Or you could buy one metal roof for potentially that entire 50 years of homeownership, with a warranty that'll see you to the end of your days.
That's how you stop the cycle of construction waste, by investing in the toughest products you can buy, like KasselWood steel shingles.
Details: KasselWood's Exceptional Warranty on Defects and Labor
Whether you're the original owner or a new owner of a home with KasselWoods steel shingles, know that our warranties are non-pro-rated, a rarity in the roofing world. Better yet, with KasselWood's warranty, if the product experiences a warranty-covered failure, coverage includes 100% of the costs for both materials and labor, for repair or replacement.
Now that's peace of mind!
The PVDF resin-based paint finishes used are warranted for 30 years against fading or chalking.
Original Owner: Kassel & Irons are proud of using the industry's best products and processes, allowing them to offer one of the roofing industry's best-covered warranties. Original owners get a Lifetime Limited Warranty that covers all Manufacturer's Defects, but also issues like chipping, flaking, peeling, and/or splitting. Own the home for the rest of your life, and the warranty remains in effect too.
That Lifetime Limited Warranty also covers the elements, like windstorms up to 120 miles an hour. Don't worry about hail, either, as the industry-leading PVDF resin-based paint system helps make it possible to warrant against chipping and leakage caused by hail.
New Owners: You may choose to sell your home down the line, and should you do so, rest securely in knowing the warranty can always be transferred to any new owner. This is exceptional with roofing warranties, as most will only cover the first sale to the first new owner. But KasselWoods can be transferred at no cost to any number of new owners, for up to 40 years from the original date of installation.
But great products need great installation. Like all building materials, proper installation is critical for proper performance. You'll need a trusted contractor for installing KasselWood, as the warranty will not cover damage from improper installation. Choose a contractor who has a workmanship warranty program and be sure you get the details of said warranty in writing before proceeding with the installation.
If you're not sure about hiring a roofing contractor, talk to us at the Metal Roofing Source. We may be able to refer you to someone locally that we know has a good track record with installing metal roofs.
Regional Availability
KasselWood steel shingles are available in the United States with the exception of the following states: Louisiana, Michigan, Minnesota, New Hampshire, Ohio, Pennsylvania, Wisconsin.  Also not available for shipping to Canada.
KasselWood – The Last Roof You Will Ever Install
Roofs have a tough job – protecting you and your home every single day. It's not a secret that no roof works harder for you than a metal roof, but today's metal roofs offer beauty with that incredible peace of mind. KasselWood steel shingles are tremendous for giving homes curb appeal with all the toughness a metal roof provides.
Let's face it, traditional shingles look great, but they're notorious for wear and tear – and fast. Within 12 to 20 years, they'll need replacing. But long before that day comes, you can anticipate problems like curling, cracking, shingles blowing off in winds, mildew growth or moss, and even discoloring. It'll take a lot of seasonal maintenance for traditional shingles to look good, but time and weather will take their toll no matter how much elbow grease you use.
The dirty secret in construction is that shorter lifespans are ideal because they keep the industry working. In 10 or 15 years, they know your roof will be another expensive job to compete for, another sale for a manufacturer.
But KasselWood shingles and other metal roofs are meant to be the last roof you ever install.
Metal Roofing Source is proud to offer KasselWood for homeowners seeking a shingle-style roof to appease their homeowner's association, or who just love the look of traditional shingle. Either way, you get all the style of shingles with none of the hassle – plus a limited lifetime 40-year transferable warranty.
This product is Certified 'Premium' under the Metal Construction Association Certified Roofing Panels program
Available Colors:
All colors are a coating of low gloss, Kynar 500® (PVDF). Screws are available to match your color.
Roofs Don't Need to Look Good to Protect You – But Should!
And that's what you get with KasselWood steel shingles – a roof built to last a lifetime and look great while it does. It's curb appeal and peace of mind, all in one well-priced, built-to-last roofing product.
With steel shingles designed to replicate the look of cedar, slate, and a variety of asphalt shingles, you can choose between 13 colors/styles to complement your home's design. From the street, it'll look just like the cedar shake you love, or the gray asphalt shingle required by your HOA. But, up close, you'll see how well it's made and how detailed it is – from texture and striations to size and shapes, these shingles look just like the product they're meant to replicate.
Technology has come a long way and architectural paints have changed the game, especially for metal roofing. KasselWood products are coated in the best products in the industry – PPF's Duranar coating, Kynar 500, and Hylar 5000. With these products comes a 30-year warranty against fading and/or chalking, for three decades of looking great and staying strong. These fantastic finishes have already proven their longevity, as some have been around for over 50 years and we've seen them outlive their warranties.
Standing Tough Against Mother Nature
As weather becomes more unpredictable, you'll need a roof that's the opposite – predictable for getting you through all the storms that come your way. From blizzards to hurricanes to tropical rains and ember-throwing wildfires, KasselWood is rated to weather it all.
Fire-rated: With a Class A Fire Resistance (UL790) rating, KasselWood's ideal for homes that might face wildfire seasons. No need to stand around spraying this roof with a hose to prevent a fire; you can get on with more important things, like protecting your family. It's also a great product for tight-knit housing communities where a house fire could easily spread from home to home. While the rest of your home may be vulnerable to fires, you won't have to worry about errant embers landing on the roof and igniting.
Wind-rated: The Class 90 Wind Uplift Resistance (UL580) rating on KasselWood means you also won't need to worry about wind getting under these shingles and turning them into dangerous projectiles. Properly installed, the concealed fasteners and interlocking design serve to create a unique shell that's able to withstand at least 120-mile-an-hour windstorms. That means KasselWood has no problem against category 1 and category 2 hurricanes, and possibly even category 3 hurricanes with their 111 to 129 mile-an-hour winds.
Hail-rated: With a Class IV Impact Resistance (UL2218) rating, you might hear the hail on the roof, but you won't need to worry about KasselWood perforating, being penetrated, or cracking under even the most severe hail.
Earth-approved: KasselWood isn't just 100% recyclable or made from 35% recycled materials, it's also energy efficient for reducing your energy needs and emissions. Like other metal roofs we carry at Metal Roofing Source, you'll find KasselWood shingles provide a thermal break for your roof. They don't absorb heat like other roofing materials do, so they keep your attic cool and can reduce cooling costs by over 20% in some climates. Plus, in the winter, they do a great job of keeping heat inside.
We've Got More and We're Here to Help
We love KasselWood steel shingles, but they're just one of the many great products we're proud to offer. If you'd like to discuss particulars on the warranty offered on these steel shingles or other specifications, or you'd like to discuss different options, call us today. We've got answers.
KasselWood Project Gallery
Get a Free Online Shingles Estimate:
If you are looking for a fast, free, "ballpark" metal roofing quote based on square footage then you're in the right place. If you would like a truly complete, accurate, metal roofing quote then you can ask for a detailed metal roofing materials and cost analysis.
Want a Real Person?
Please call us toll-free at 1-877-833-3237
with any questions or quote needs! We are here to help.

Customer service and pricing available from 8:00 am to 5:00 pm MST Monday - Friday.