These shingles are not currently available.
Click here to view available metal shingle options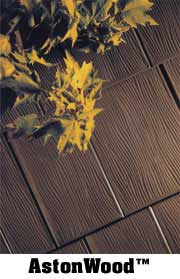 These high quality shingles easily combine the warmth and appeal of cedar shingles with the strength and durability of galvanized steel. This combination creates an elegant roofing product which replicates the rich deep hand-hewn texture of wood. Astonwood shingles are available in a selection of attractive colors.
Shingles come with a 50 year limited product warranty
30 year finish limited warranty
25 year full start period, limited transferability
50 year limited wind warranty, protecting against damage from winds up to 110 mph. See Limited Warranty for details.
Special coatings process resists dirt and environmental aging
Galva-Strength steel construction
Lightweight compared to traditional roofing
Resists fading and chalking from the elements
Fire resistant galvanized steel
Can be applied over existing roof
Metal Shingles Color Visualizer:
Play with the visualizer to see what different styles and colors of metal shingles look like on a structure. Try on different roofing profiles and colors!  Upload a picture of your building and get an idea of what a new metal roof will look like on your structure!  Save your project, print it, email it.  Click here to open our metal roofing visualizer in a new window.
Actual panel and shingle colors may vary from the color on your screen due to monitor color limitations. 
---
Want a Real Person?
Please call us toll-free at 1-877-833-3237
with any questions or quote needs! We are here to help.

Customer service and pricing available from 8:00 am to 5:00 pm MST Monday – Friday.