Metal roofing has come a long way over the 20 years, but it's sometimes still challenging to get a homeowner's association onboard for metal roofs. The strange thing is, it's the smartest roofing choice for any close-knit community, because metal roofs are best able to protect your neighbors' homes as well as yours. In addition, they look great and can increase property values.
Maybe that's why metal roofs are now America's second-favorite roofing choice, commanding 12% of the repair and remodeling market. And new-construction builds have doubled to 8% from 4% in 2019 alone. That popularity is partly thanks to word-of-mouth from homeowners, but also from news stories that marvel over metal-roofed houses that defy the odds and survive devastating hurricanes or wildfires.
That increase in builds also comes because of the advancements in metal roofing technology through modern engineering. Today's products offer stone-coated finishes and designs to look like tile, clay, slate, shake, and asphalt shingle, while providing the safety and durability of metal.
There's a look for everyone, coupled with the safest roof a home can have – and that's why it's time HOAs embrace everything today's metal roofing delivers.
Understand the HOA's Point of View
If you're in a development where it's time to replace the roof, then your place was built, and the homeowner's association formed, at least 20, 30, or even 40 years ago. It's only been in the last 20 years that metal roofing companies developed attractive metal panel roofing to suit a wide range of architectural styles and settings – long after those HOA guidelines were written.
Let's face it. For a long time, metal roofs just weren't pretty, and the technology wasn't so great that it warranted the industrial, cold look the roofs once had.
That was then. Today's metal roofs look stunning and outperform all competing roofing products for load, resilience, cost effectiveness, ease of maintenance, and safety.
Homeowner's associations are about keeping the neighborhood beautiful and consistent. After all, that's why you moved there, right? They're simply trying to keep that appeal. We get that.
But metal roofs today almost certainly offer a style suited to your housing development's existing design. Plus, they're easily maintained to look fab for decades to come. With all that in mind, a metal roof should exceed the HOA's requirements, and all you need to do is prove that. (In theory.)
Channel Your Inner Lobbyist
Change takes time and requires convincing those who can effect that change. The reality is that HOAs are flawed because humans are complicated. You won't always have reasonable people on your committee, but hopefully you do.
Start by reviewing your HOA documents and seeing what the guidelines state specifically, because language can leave room for debate. Once you're informed about the rules, get to know the members of the committee. Ultimately, HOAs are somewhat political in how they operate, so building relationships can be helpful later.
Introduce yourself to the chairperson and other folks who in the association. Be friendly and make sure they know where you live. Cookies never hurt.
And, at home, make sure you're the model resident who adheres to the HOA's guidelines with a beautiful yard and home. This will help make the case that you're a rule stickler and a great neighbor, as every bit of good will can help.
Communicate Your Wants and Needs
You can certainly call your HOA to tell them you'd like to install a metal roof, and why, but there's a strong case for sticking to email. Advantages to communicating through email include:
There's a digital record of your contact – ideally everything will go well, but if not, it's a lifesaver to have a record of all communications from day one. Email is legally admissible and even serves as a written contract when needed.
No worries about misspeaking, getting nervous, or getting emotional if a call goes sideways, because backspace and delete are your friends. Just take a moment, or a day, before you hit "send," or ask a neutral friend to read your notes first.
Attach links to show the products you're considering, and their technical specs, to bolster your case.
Blind-CC all those who might have a say in the matter, to help sway them early.
Show Them the Product
You can use a tool, like Metal Roofing Source's online roofing visualizer, that allows you to upload a photo of your home and then test-drive various styles and colors of metal roofing. You can save or print the finished look, which you could send as a screenshot to your HOA members.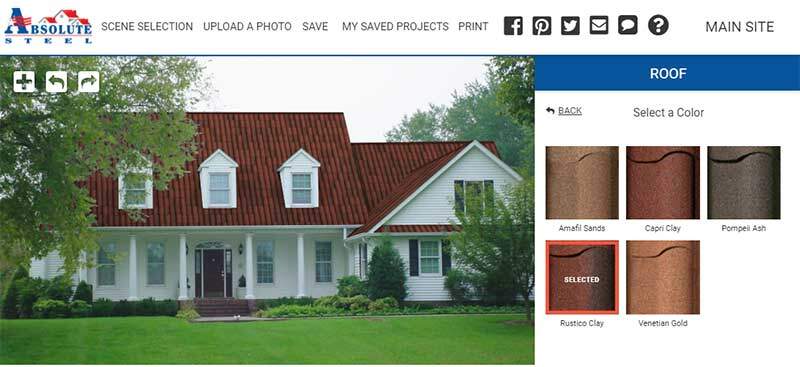 Alternatively, provide links to the specific product on a roofing panels website. For example, here are metal shingle products as well as various panel options.
While we don't typically send samples, if you've got a stubborn HOA and you're making the case, call us and tell our customer service pros what you're up against. It might be possible for us to send a physical sample to support your case. Maybe getting their hands on our Villa Tile Stone Coated Steel Shingles or our Shake XD Stone Coated Steel Shingles might help get you votes.
Wow Them with Science
Developments with HOAs are communities unto themselves. Houses are physically close to each other. This means a threat to one is a threat to all – be it fire, wind, or hail. A fire spreading through a row of neighbors is a nightmare scenario, but the close-knit proximity makes it one worth considering.
The risk of household fires is lower than it's ever been, thanks to better construction and technology, but the risk is always there – from wildfires, too. The latter is why metal roofs are increasingly popular – and FEMA-recommended – in places like California. Non-combustible metal roofs help protect your home from going up in flames with errant embers – thus reducing the chance of your home igniting homes around you.
See: Benefits of Metal Roofing in Wildland Urban Interface Areas
But that's just start of how metal roofs are engineered to save lives, property, and money.  Here are some facts that you can share with your HOA in the process.
Warrantied for Decades: Depending on your panel choice, warranties can be lifelong, and guarantee up to 50 years against fading, chalking, and peeling. Expect decades of looking great – with little maintenance. No need to worry about moss, broken shingles, or cracked tiles with these long-lasting panels.
As Tough as They Get: Our metal roofs panels are rated to withstand winds of 140mph but FEMA accredits the metal roof as to how one home survived the 170-mile-an-hour winds in Hurricane Andrew. In a close-quartered housing development, imagine how much safer major storms could be without shingles or other roofing materials flying off in high winds.
They're Not Louder: There's a misconception that metal roofs are inherently loud. That's usually bad or cheap installation's fault. Today's underlayment options both insulate the home but also greatly dampen noise from rain and hail. Speaking of hail, no worries there either; today's metal roofing withstands class-4 impacts. Here are other myths we've debunked, like how metal roofs supposedly attract lightning. (They don't. They're safer with lightning, in fact, so if your home is ever struck, here's hoping it's got a metal roof.)
Save on Energy Bills: That underlayment that keeps the roof quiet also helps keep energy bills low. But metal roofs reflect, rather than absorb, solar heat, which significantly reduces cooling costs – and they keep energy in. The Metal Roofing Alliance's data shows metal-roofed homeowners routinely save as much as 25% off utility bills.
Earth-friendly: Avoid landfills altogether with a metal roof – provided you're alive and still there over 50 years from now! But to make you feel good from day one, know that they're largely made from recycled metal these days – unlike asphalt shingles made from petroleum that inevitably wind up in landfills.
The Lightest Roofing Material: Metal roofing is as light as roofing gets. And yes, you can walk on it for routine inspections or to prepare for storm season by checking (even tightening) panel fasteners. These roofs can often be installed over your existing roof. But removing the existing roof can shave off as much as half or more of your current roof's dead weight, making big snowfalls less worrisome.
Talk to your home insurance provider. Maybe they offer lower rates or other incentives for metal roofs. You can bet the HOA would like that. Get a short letter or statement from them if you can.
Rally the Troops
Strength in numbers, right? Get neighbors on your side. Preach metal roofing benefits. After all, if you need a roof and your development was built at the same time, maybe they need a roof too, right?
People are smarter about energy waste and reducing landfill waste, and metal roofing is ideal for creating net-zero homes and communities. With low maintenance needs, all kinds of safety benefits, and made to look like popular traditional roofing styles, there's no reason your HOA should deny your request.
As a last resort, if you're stonewalled, be the change you wish to see – run for a seat on the association. Modernize things from the inside out.
But here's hoping the road to approval is shorter and simpler than you expect. After all, science is on your side.
Good to Go? Call Us
The Metal Roofing Source offers instant online quotes, so if you're ready to go or we can help you win the debate with a quote, just give us a shout. We're always happy to help.